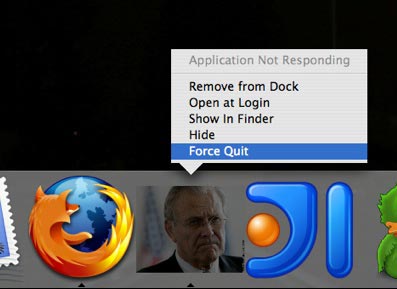 As friends make the jump from windows to mac - I often get asked what mac apps to use? Where are some good places to get software? What's in your dock? Here is what is currently in my dock... some programs I use often - others I recently downloaded and need them visable so I remember to try them out. Most are free... I left out the standards "I" Programs. Itunes and whatnot.
My Dock
djay - Uses Itunes tracks with two digital turntables.. not sure what to do with it. But's it's fun to play with. Now I really have two turntables and a microphone.
quicksilver - A quick app launcher. the precurser to 'spotlight'. It works much faster than spotlight and has many plugins to make the program dig deeper into your computer. It searches bookmarks and address book entries as well as Ichat logs.
appzaper - They had it free one day. It's a great way to delete apps and makes a cool sound when deleting. Like uninstall for windows in that it deletes many of the leftover pieces of the programs when you zap.
Flame - Shows what services are being offered by computers on your network.
bluecoconut - Allows you to 'borrow' music from shared itunes libraries on local networks. Fun to use in airports when you see dozens of libraries. I like to walk around and try and identify the human with their playlist. Of all the libraries I've 'browsed'... regardless of how obscure or common - EVERYONE has The Beatles and Eminem.
senuti - Takes music from you ipod back to mac. itunes <> senuti.
vlc - A great media player. Plays most formats.
azureus - A bit torrent client. I like the RSS plugin that downloads recently posted torrents in the genre's you assign.
firefox - Webbrowser with many user created themes/plugins to enhance your browsing. The plugins I use most - All-in-one sidebar, Bigmenot, Del.icio.us, dictionary search, Digg This, Downloadthemall, Flashgot, Forecastfox, Foxytunes, Google Calendar Quick Add, Greesemonkey, IE View, PDF download, ReloadEvery, Stop-or-Reload Button, TrackmeBot, VideoDownloader.
istumbler - Finds hotspots.
vienna - Free newsreader.
google earth - Earth through the eyes of Google.
stellarium -

Planetarium software that shows exactly what you see when you look up at the stars

.

celestia - The free space simulation that lets you explore our universe in three dimensions.
skype - Free voice over IP client.
fire - A great instant messanger client.
second life - Virtual reality second world.
renamer4mac - Allows you to easily rename items in bulk.
deliciouslibrary - Catalog your home library. DVD's, games, books.
activity monitor - MenuMeters is a set of CPU, memory, disk, and network monitoring tools.
ipodder lemon - Podcatcher sometimes called 'juice'.
Menubar items
Todos - This is great program for launching, finding apps. It shows all apps on your mac by icon.
pod2go - Puts news and gas prices and weather and email on your ipod. audioscrobbler - Stats for itunes. Builds charts on your listening habits and shows 'friends' who have similiar listening habits. slimbatterymonitor - Replaces your battery icon with one that is a little more customizable. alarmclock2 - Wake up to itunes playlists.
I use http://del.icio.us to save my bookmarks online. The sites I've saved with the "TAG" mac are here. Most are lists like this one of mac software. http://del.icio.us/stork123/mac